Solutions that fit your needs
Ulysses has designed software for the care industry consistently for over 2 decades. This gives us a unique perspective and the knowledge to know the needs of you and your clients.
Simple to implement and providing a return on investment from the first day of operation, our software and products will help you deliver properly organised care to your clients and service users, always.
We can help you work more effectively in the following areas:
Monitoring Time & Attendance
Auto-Scheduling/Rostering
HR and Compliance Management
Monitoring Tasks & Outcomes
Service & Support
The Ulysses customer care team are on hand to help with any issues our clients have, however big or small. We strive to ensure that you continuously get the best from your software solution.
Our Guarantee
Our experienced team will work with you prior to implementation to ensure that the system fits your business as well as your requirements. Our continuous improvement strategy guarantees that we surpass industry standards and maintain the level of investment we have, and provide free upgrades for all of our users.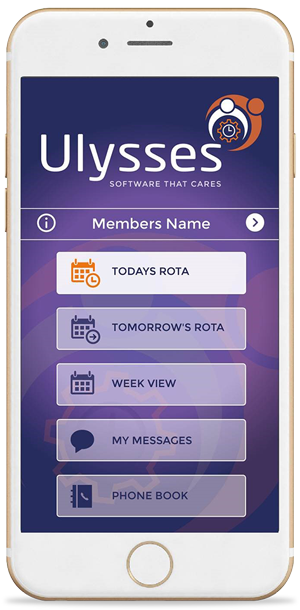 Exciting Innovation
The workflows within Ulysses are constantly being developed and flexibility is second to none – If you need a particular feature don't hesitate to ask – the chances are that we already have what you need or can deliver it quickly and easily.
Cost Effective
In an industry full of competition we aim to provide solutions for everyone from the smallest care provider up to the largest local authorities, our infrastructure and pricing model allows us to cater for all.
Organise & Monitor Carers
Save Time & Money
Improve Communication